What farmers say about KLEBER
wolfgang kessler avis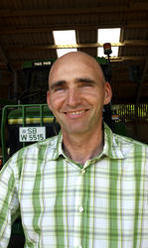 "My experience with the tractors I've got fitted with KLEBER tyres has been very positive.  They are both reliable and efficient."
"To do my job I need quality tyres, which have an excellent service life and the quality/price ration must be good.
The KLEBER tyres I use give good traction (KLEBER Traker and Fitker) which is really important to me as I'm working on clay (over 50% of the total farm land.) These tyres are really comfortable both in the fields and on the road. My experience with the tractors I've got fitted with KLEBER tyres has been very positive.  They are both reliable and efficient.
Wolfgang Kessler - 49 years
aged 49, mixed farming, 500 ha (Germany), a user of KLEBER Fitker and Traker tyres
monsieur pifferi emanuele avis
"The Gripker has a fairly thin tread bar which means it runs well even on soils with a high clay content, which are a big problem for us."
We work in the Apennine region, in an area with very steep slopes and so the tyre has to have good grip to cling to the ground.
The first criterion in choosing a tyre is traction in the field, as we work on slopes which means that the first thing you observe is the machine's traction in the field and the grip of the tyres.
Monsieur Pifferi Emanuele
Manager of the Agritec company, producers of cereals and animal feed, 430 hectares, using Kleber Gripker tyres
hubert carre avis
"We've been using KLEBER for more than 40 years…."
The first thing we look for is resistance to cuts, as we are working in a region with stony top soil. We want tyres which are more resistant to cuts and which clean better than others. KLEBER tyres are very reliable.
Hubert Carré - 52 years
mixed farming and livestock, the latest of 4 generations of farmers, and user of KLEBER Traker tyres
jean louis et nathalie mairet avis
" I find the price/quality ratio of KLEBER tyres very good. I'm very satisfied with the product."
When it was time to change our tyres, we realised that KLEBER tyres were cheaper than other so-called "low cost" brands. We need tyres with good traction and self-cleaning properties as we are working on heavy clay soil. The Traker range is great for our operation, as they are very reliable tyres."
Jean-Louis et Nathalie Mairet
Farmers in Gaec, for about 15 years (France), users of KLEBER Traker tyres
reinhard graf avis
"When I think about the KLEBER brand, I also think about the valuable advice of the sales representative who's been looking after me for years"
I've known the KLEBER brand since I was young. It's a brand everybody knew for its excellent radial car tyres. It's this brand image which led us to fit our tractors with KLEBER tyres. In my case you can say I've had decades of positive experience with the KLEBER brand which in my opinion is a trustworthy brand which I would strongly recommend. The quality/price ratio is very good. When I think about the KLEBER brand, I also think about the valuable advice of the sales representative who's been looking after me for years. He's always kept me informed of developments in the sector and has always been able to guide me in closing my tyres.
« KLEBER Super 3? We use them a lot on our tractors. We were attracted by the high load capacity and the stability these tyres give us. »
Reinhard Graf - 64 years
Mixed farming /market gardening (Germany) using KLEBER Super 3 tyres
monsieur sergio polleto avis
"The Kleber brand is synonymous with safety"
The tyres are reliable because they've always done their job properly. Kleber have and continue to invest heavily in agriculture and the results are plain to see. The quality of Kleber will continue to inspire confidence in the coming years, as they have never stopped improving their range. Once you've tried them, you will see the benefits!
Sergio Polleto - 41 years
Mixed farming, 410 hectares in Italy, uses Kleber Topker, Gripker and Fitker